Hidden history of residential schools for native people by churches

Kevin Annett - the man who won't cave in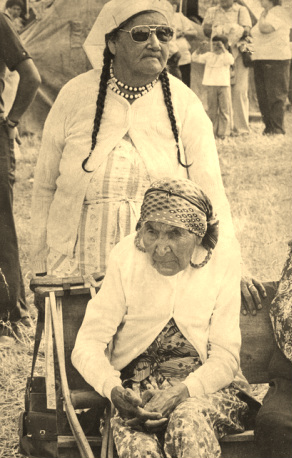 Canadian Reverend Kevin Annett stands alone, but he won't cave in regarding the disappearance and "murder", as he says, of tens of thousands aboriginal people in North America during the past century. Although the Canadian government meanwhile apologized for its many residential schools over decades, which kept some 250,000 natives between 1920 and 1996 under the guardianship and "so-called education" of churches, the reverend says in an interview with Tilltales: "That's not good enough. We need punishment for those who are guilty."

Kevin Annett foremost wants to know the exact location of burial sites of more than 50,000 Indians, so his claim, who died in those schools under the care of state and church. Natives want to give those dead loved ones proper burials to find closure after all those years. But the former minister also wants responsible for the death of the children to be held accountable in front of an international court.

He is a fighter when it comes to the agonies of native Canadian people. To the state and church he is a nightmare, because he won't give up or cave in. Indians call him a hero and adopted him with the naming of "Eagle Strong Voice". It's not too late to get justice, he says. "Some 85,000 survivors who went through that residential school system are still around to tell their story of rape and beatings. And although there was a meeting in Rome a few years ago with then Pope Ratzinger, those talks did not impress Kevin Annett. "The Pope never said I am sorry. He just regretted the harm, but took no responsibility. That's not surprising, since he ordered American Bishops to conceal evidence of sexual abuse in churches some time ago."

While the Canadian government has set aside with its apology some two billion dollars for healing and compensations of former students, the suffering on Indian Reservations goes on, he argues. Those who survived the residential schools best - who were the pets of the priests - include Band Council Chiefs who today often work against their own people. Money from oil and gas revenues to the reserve as well as government dollars often don't find their way to the individual native person. On the reserves the suffering continues. In cities like Vancouver homeless natives, alcohol and drug abuse show the real- long-term picture of what damage was done to former residential school pupils. "Not few chiefs work against their own people," he claims. It is estimated that more than 350 Indians die every year in the streets of cities from drug abuse.

Kevin Annett, who was hired 1992 by St. Andrew's United Church in Port Alberni in British Columbia, but fired already three years later without official charges. His only mistake: He asked too many questions and began to educate the public about the agonies within former residential schools. And although he doesn't believe that anybody will ever be charged and go to trial for rape or murder, Kevin Annett has become a crusader for the cause of native North Americans. On his webpage "Hidden from History", where many older natives tell their ordeal as children in former residential schools, he wants to educate and scream for justice. Most times of the year, Kevin Annett is on book tour worldwide. He lectures about a history, which still few want to talk about. A history that isn't that old: The last residential school, where native children learned to forget their heritage and became "well-behaved" Canadians, closed in Saskatchewan only in 1996. "The churches are unwilling to unearth those graves, because many of the perpetrators within those former 120 residential schools are still alive," Kevin Annett points out.

---
---
---
Living the simple life: Hutterites in Alberta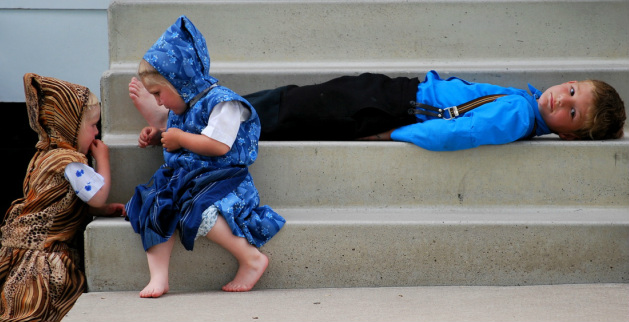 They live the simple life - Hutterites in Alberta. Without television or cellphone. On colonies with up to one hundred twenty people, Hutterites are farmers. And although their machinery is high-tech their private daily life is old-fashioned and close to the land. Exceeds the population on a colony one hundred twenty people, they create another settlement somewhere in Canada. Hard-working, Hutterites farm efficiently and have major contracts to supply grocery chains with eggs, turkey and other products. Hutterites (named after their founder Hutter) stay away from the hustle of town folks. They keep to themselves. Understandable, considering their history. Prosecuted throughout their existence because of their religious beliefs which also makes them rejecters of war and battle, they came over Europe to the United States and then to Canada. Here on their large farms they grow their own food, bake bread, make sausages and stich their own clothes. Independent from the outside world, they live like their ancestors by the words of the bible. Hutterites speak an old Bible German but are also taught English by Canadian teachers who come to their settlements. Few Hutterites leave their colonies to seek further education or make a living in the city. From early childhood on they work and pray together. Most family units count more than eight children. In large dining rooms all members of the colony eat together although every family has their own living quarters. But it is this togetherness which makes them strong. And their belief. They call outsiders "the English". And it takes some time to earn their trust. But then - they become friends for life. I visit them frequently, because there is something there that's been missing in our stressful world. Hutterite colonies are places, where you learn to become closer to yourself again.

---
---
All text and photos copyright Ursula Tillmann
---